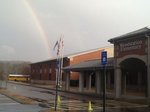 Woodstation is our home!
Keep up with what's going on at all the General Campuses
The General Connection
4/16 to 4/21/18
Woodstation's Mission and PBIS Statement
Woodstation Elementary develops every child to be life-long learners who are Respectful, Responsible, Resourceful, Motivated and Prepared!
Vision Statement:
Woodstation Elementary will prepare every child to reach their full potential, so they graduate prepared to be good citizens and leaders of the future.
****Every child, every day, without exception****
*Doors Open at 7:00 a.m. every school day
#Justkeeplearninggenerals
Only 6 more weeks (30 more school days) left to inspire, challenge, prepare, and empower students for success in Elementary.
Classroom/Teacher Spotlight:
Jackson Brown 4th grade student at Woodstation is featuring a Spotlight on a classroom, Staff member or Teacher at WES- Check it out!
https://sites.google.com/catoosa.k12.ga.us/teacherspotlight/home?authuser=0
Padlet - Check out what students and teachers are saying to encourage using Padlet. Our Wonderful Media Specialist and friend Mrs. Knight got some terrific news recently: She is CANCER FREE! However, her doctors decided that to help keep her that way, she needs to do Chemotherapy treatments. Let's share a little sunshine with our friend and teacher by posting encouraging thoughts and quotes to brighten her day. Please make the title of your note your name.
https://padlet.com/afloyd_wes/jca06nvpmrc6
PLC Moment: Build a Collaborative Culture: No school can help all students achieve at high levels if teachers work in isolation. Schools improve when teachers are given the time and support to work together to clarify essential student learning, develop common assessments for learning, analyze evidence of student learning, and use that evidence to learn from one another.
School information:
Library Morning Schedule from 7:25 to 7:50 am Reading is Fun…… 2nd-5th grade students can bring a book and come read in the Media Center (D.E.A.R.) time. At Woodstation our 3rd, 4th, and 5th graders can come to the Media Center after they eat their lunch and get extra reading time in. Please encourage your student to take advantage of this great opportunity. Awesome Job Students!
Congratulations to the over 64 students for this past week that leveled up in Lexia at Woodstation this past week. We had another Yoo-Hoo, AKA-(Lexia Juice), party for those students who completed a level in Lexia this week. Lexia is a reading program providing differentiated literacy instruction for students of all abilities in grades Pre-K–5. Lexia's research-proven program provides explicit, systematic, personalized learning in the six areas of reading instruction, targeting skill gaps as they emerge, and providing teachers with the data and student-specific resources they need for individual or small-group instruction.
School Lunch Charges: We are thankful and blessed for the nutritious breakfast and lunches our Cafeteria provides for our students daily. Please make sure if your student is purchasing breakfast or lunch in the Cafeteria, please make sure there is money in their account to cover the cost of the meals. We are getting close to the end of school and your charges need to be paid. We currently have over $ 1,500.00 in student lunch charges. If you currently owe money, please send payment immediately or contact the school and set up a payment plan.
Monday-
Leadership (Glow Team) meeting 3pm in Media Center
HMS- Golf Match @ Lafayette 4pm
HMS- Varsity Baseball @ Lafayette 5pm
HHS- Region Track Meet SE Whitfield 10am
HHS- Boys Golf @ Dalton Country Club
Great Day to be a Woodstation General!
Tuesday-
PBIS Team Meeting 3pm in Media Center
5th Grade Parent Math Workshop 5:45pm for parents of students going into Middle School
HMS- Soccer vs. CVMS 4:30pm Home
HMS- Track Meet @ HHS 4:30pm
HMS- Varsity Baseball vs. South Pittsburg MS 5:30pm
HHS- Region Track Meet SE Whitfield 10am
HHS- Soccer @ Pickens (Girls- 5pm, Boys-7pm)
HHS- Boys Golf @ Lafayette 3:30pm
HHS- Baseball vs. Lafayette Home 5:30pm
HHS- District Jazz Festival @ Carterville High School
Great Day to be a Woodstation General!
Wednesday-
Relay for Life Dress Down Day- $1
Wednesday Folders go home
2nd Grade field trip to CDM
PLC's after school in the Media Center 3 to 3:45pm GMS small group testing staff only
Great Day to be a Woodstation General!
Thursday-
Partnership and LSGT Meeting and Lunch 11am in Renaissance Room
College Dress down Day for Staff- Wear your Favorite College Team shirt
HMS- JV Baseball vs. Baylor 5pm Home
HHS- Boys Golf 5 Star Invitational @ Nob North 1pm
HHS- Soccer @ Cass (Girls-5pm, Boys-7:00pm)
HHS- Baseball @ Lafayette 5:30pm
Great Day to be a Woodstation General!
Friday-
FCA at Woodstation in Music Room 7:30 to 7:50 am
Tutoring Student Reward
Woodstation Track Meet @ LFO High School 5:30pm
HMS- JV/Varsity Baseball vs. Ringgold 5-9pm Home
HHS- Baseball vs. Lafayette Home 5:30pm
Great Day to be a Woodstation General!
Saturday-
HHS- District 7 Solo and Ensemble Festival @ RMS
Great Day to be a Woodstation General!
Coach P's Fit Tips:
Watch the Clock
Your body clock, that is. Try to work out at the time you have the most energy. If you're a morning person, schedule your fitness activities early in the day; if you perk up as the day goes along, plan your activities in the afternoon or evening. Working out while you have the most energy will yield the best results.
Nurse Terri's Healing Hints:
Be sure to floss daily! It takes healthy gums to grow healthy teeth. Along with brushing twice daily, the American Dental Association recommends flossing once a day. Doing this decreases the likelihood of gum disease and tooth decay. Even though our children still have baby teeth, it is important for them to get in the habit of good oral health.
Woodstation Events Coming Up Next Few Weeks:
3/27 to 4/20- Pre-K Registration Packet Pick-up, 4/23 to 4/27- Testing Week at Woodstation, 4/28- Duck Derby 10- 2pm @ Colonnade to support Communities in Schools.
As Always . . . Go G.E.N.E.R.A.L.S.!