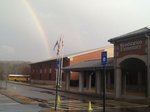 Woodstation is our home!
Keep up with what's going on at all the General Campuses
The General Connection
2/19 to 2/24/18
Woodstation's Mission and PBIS Statement
Woodstation Elementary develops every child to be life-long learners who are Respectful, Responsible, Resourceful, Motivated and Prepared!
Vision Statement:
Woodstation Elementary will prepare every child to reach their full potential, so they graduate prepared to be good citizens and leaders of the future.
****Every child, every day, without exception****
*Doors Open at 7:00 a.m. every school day
#Justkeeplearninggenerals
Only 13 more weeks left to inspire, challenge, prepare, and empower students for success in Elementary.
Classroom/Teacher Spotlight:
Jackson Brown 4th grade student at Woodstation will be featuring a Spotlight on a classroom or Teacher at WES- Check it Out!
https://sites.google.com/catoosa.k12.ga.us/teacherspotlight/home?authuser=0
PLC Moment: Three Big Ideas that Drive the Work of a PLC are: A focus on Learning, a Collaborative Culture and Collective Responsibility, and a Results Orientation. The first (and the biggest) of the big ideas, A focus on learning, is based on the premise that the fundamental purpose of the school is to ensure that all students learn at high levels (grade level or higher). This focus on and commitment to the learning of each student are the very essence of a learning community.
School information:
Library Morning Schedule from 7:25 to 7:50 am Reading is Fun…… 2nd-5th grade students can bring a book and come read in the Media Center (D.E.A.R.) time. At Woodstation our 3rd, 4th, and 5th graders can come to the Media Center after they eat their lunch and get extra reading time in. Please encourage your student to take advantage of this great opportunity. Awesome Job Students!
Congratulations to the 28 students we had that leveled up in Lexia this week at Woodstation. We had our first Yoo-Hoo, AKA-(Lexia Juice), party for those students who completed a level in Lexia this week. Lexia is a reading program providing differentiated literacy instruction for students of all abilities in grades pre-K–5. Lexia's research-proven program provides explicit, systematic, personalized learning in the six areas of reading instruction, targeting skill gaps as they emerge, and providing teachers with the data and student-specific resources they need for individual or small-group instruction.
Woodstation's Spring Fundraiser is Butter Braid® pastries which comes frozen solid and you'll need to plan ahead a little to enjoy it. That's because the dough has to thaw and rise and it takes 8-10 hours. It's completely worth it! If you want a breakfast pastry just set it out on a pan covered loosely with plastic wrap. If you'd rather have it as an after dinner treat, just set it out in the morning!
Homemade appearance and taste

Quality ingredients; flour, sugar, and butter

Braided by hand with care

Made in small town Iowa

You make a difference through each pastry
Enjoy sharing your pastries during family gatherings, holidays, special occasions, or just because!
Title l Conference Week is February 26th to March 2nd. This is a time to meet with your child's teacher, review your child's data, and discuss any concerns. Teachers will also be continuing to review our goals in the Family-School Compact and giving suggestions for how to support your child's learning at home. If you haven't already scheduled a time to meet with your teacher, please contact the school to sign up. We hope you take advantage of this opportunity to partner with us!
Congratulations Pre-K Program: Our Pre-K classrooms had our State GRC Audit this week, this is what Judy Blasengame, the Quality Improvement Coordinator from Bright from the Start had to say about Woodstation's Pre-K classrooms and teachers: "The first word that comes to mind in regard to the GRC Audit at Woodstation is "Wow!" Woodstation's Pre-K Team have certainly set the bar high for your other Catoosa BOE Pre-K Sites." Congratulations on a job well done!
School Lunch Charges: We are thankful and blessed for the nutritious breakfast and lunches our Cafeteria provides for our students daily. Please make sure if your student is purchasing breakfast or lunch in the Cafeteria, please make sure there is money in their account to cover the cost of the meals. We currently still have student charges that are unpaid. If you currently owe money, please send payment immediately or contact the school and set up a payment plan.
Congratulations to the Woodstation Winners for the Young Georgia Authors' Competition: Kindergarten- Wesley Kittle, 1st Grade- Caris Rich, 2nd Grade- Blade Kelley, 3rd Grade- Will Odom, 4th Grade- Jackson Brown, 5th Grade- Georgia Taylor.
Congratulations this is National Social Worker Week- February 19th to 24th. Sue Mason is our Social Worker- she is Awesome!
Congratulations to HMS/HHS FFA Programs (Future Farmer of American) Week February 19th to 24th.
Monday-
No School- President's Day
Great Day to be a Woodstation General!
Tuesday –
FFA Students from HMS will be coming to WES to help out in classrooms from 8:45am to 11:30am
PBIS team meeting in the Data Room @ 3:00pm
HMS- Cheer Clinic
HHS- JV Baseball @ Ridgeland 5:30pm
HHS- Soccer @ LFO (Girls- 5:00pm and Boys 7:00pm)
HHS- Upcoming Freshman Registration 6:00pm to 7:30pm in Media Center
Great Day to be a Woodstation General!
Wednesday-
Relay for Life Dress Down Day- $1
Wednesday Folders go home
Sielox Training Meeting in Media Center for all teachers 3:00pm to 3:45pm
Great Day to be a Woodstation General!
Thursday-
Butter Braid Spring Fundraiser for WES (February 22nd to March 8th)
College Dress down Day for Staff- Wear your Favorite College Team shirt
Teacher Grade Level PLC's during planning in Data Room
LSGT Meeting @ 3:00pm in Data Room
HMS- Cheer Clinic
HHS- Girls Soccer Home vs. Dalton 5:00pm
HHS Var. Baseball Home vs. Dalton 5:30pm
Great Day to be a Woodstation General!
Friday-
Butter Braid Spring Fundraiser for WES (February 22nd to March 8th)
Spirit Day at Woodstation
Special Olympics Basketball @ Ringgold
HHS- Soccer Home vs. North Murray (Girls- 5:30pm, Boys- 7:30pm)
HHS- Var. Baseball @ Ringgold 5:55pm
Great Day to be a Woodstation General!
Saturday-
HHS- Var. Baseball Home vs. Coahulla Creek 10:30am
HHS- Volleyball Clinic in Gym 10am to 12 noon
Great Day to be a Woodstation General!
Coach P's Fit Tips:
Change it up. If you've hit a plateau from doing that same old routine over and over; it's time to change it up! It is crucial to always confuse your muscles to ensure you get the most out of your workout.
Nurse Terri's Healing Hints:
Make sure you get plenty of liquids. It doesn't all have to be water -- fruit juices, sports drinks, and broth-based soups (like chicken noodle soup) also count. They keep your respiratory system hydrated and turn that nasty, thick mucus into a thin liquid you can cough up and spit out. That's good -- if it builds up in your lungs it could lead to an infection.
Woodstation Events Coming Up Next Few Weeks:
2/22 to 3/8- Butter Braid WES Spring Fundraiser, 2/26 to 3/2- Book Fair and Dr. Seuss Week, (Late night for Book Fair and Conference Week 2/27), 2/26 to 3/2 Parent/Student/Teacher Conference Title 1 Week,
As Always . . . Go G.E.N.E.R.A.L.S.!